Introduction:
Nowadays, rose petals are considered necessary for wedding decoration. With all these facts, it is clear why most of the brides want rose decorations at their wedding.
However, numerous companies are experts in preserving and freezing roses. So, you can use your favorite flower for your special day without any change in its shape and color.
Below, we have answered four most commonly asked questions about the use of the rose as a wedding flower.
What Are the Ways to Use Rose for Wedding Decoration?
Usually, the most important and common function of rose petals is their use as an alternative to paper confetti.
Many wedding venues no longer allow custom paper and rice, confetti, so many couples are choosing rose petals over traditional things for their wedding decoration.
Rose petals can also be used for welcoming couples when they arrive at the wedding venue.
The rose petals can be used to welcome guests by placing them in beautiful envelopes, bags, trays, or cones.
You can create an attractive and elegant petal wedding pathway for your processional. The petals can be placed in a beautiful basket and handed to a little girl for scattering over the aisle as she passes.
The most common use of rose petals is the decoration of wedding reception and tables. A White linen tablecloth with a sparkle of roses and candles can be dramatically romantic
Rose flowers are also used for creating a simple and elegant table centerpiece.
What Color Rose Petals Can I Have?
You may have limited options of red, white, pink, and yellow if you go with naturally colored rose petals. Also, your flower supplier doesn't guarantee to prove the exact shade that you want for your wedding decoration.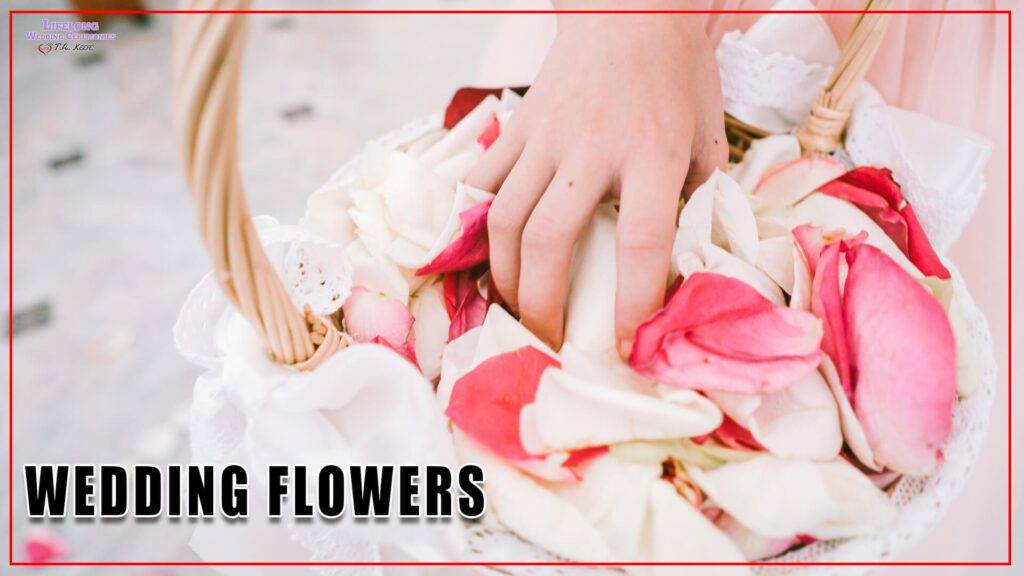 However, preserved flowers are available in almost any shade that compliments your wedding theme, and their colors are enhanced. So, it would be a better option to choose preserved rose petals for your wedding color theme.
Ivory roses signify loyalty towards your partner, bright red roses indicate passion and romance, dark red roses signify respect and gratitude, and white roses symbolize purity. Be careful with selecting a yellow rose as it signifies jealousy.
DIY Wedding Flowers:
If you don't have any idea about the floral decoration, you can start with DIY wedding flowers. You can be able to select the right flowers according to your taste and choice for your special day with some research.
A fresh rose bouquet should be created within 24 hours of the wedding to keep them fresh and perky. However, many flowers can last for 48 hours after cutting.
If you want fresh and bright flowers in your wedding decoration, ensure to do thorough research on the shelf life and colors of the flowers that you have selected for your wedding day decoration.
White Wedding Flowers:
White roses are highly versatile for use in wedding decoration. A single bloom or monochrome arrangement of white roses creates an elegant and modern bouquet. An all-white bouquet of white roses with other flowers like bright red roses, tulips, or hydrangea creates a beautiful, attractive bouquet.
A white rose wedding theme always looks elegant and never goes out of trend. There are countless decoration possibilities with white roses. You can contrast white roses with red, purple, or any other color flower to create a more charming wedding theme look.
A white rose flower crown with your white wedding gown can give your look a decent and beautiful look. You can use white roses for decorating the tables with bouquets, creating strewn aisles, and welcoming guests on their arrival at the wedding venue.
Pink Wedding Flowers:
It is hard to stop yourself from gravitating towards the pink roses wedding theme for your wedding reception. Different shades of pink rose can be perfect for creating an attractive wedding theme. Pink rose covers all shades of a wedding, from a blushing pink bride to all colors of love.
Pink rose bouquets are so popular for wedding decoration and for carrying down to the aisle. If you are also planning a pink wedding rose theme, then no double, you've selected one of the best options. Pink rose is so versatile in creating attractive pink theme decoration as it is available in different shades.
The color spectrum of pink roses is so wide-ranging, from bright magenta to sweet peach. Regardless of your choice of bright or light color for your wedding decoration theme, you can find all shades of pink rose's hue.  Also, you have numerous decoration varieties with pink petals.
Red Wedding Flowers:
Whether it is your wedding day, valentine or some special occasion, a bouquet of red roses compliments almost every situation. Red roses symbolize love, passion, and romance for each other. A red rose wedding decoration theme will just ooze romance, no matter at which time of year you are getting married.
There are endless ways of creating a red-romantic flower bouquet. You can go with bright or dark red roses complemented with greenery. If you are looking for fresh, bright summer wedding vibes, you can opt for a contrast of red and white roses.
The dark red roses theme gives a moody, romantic look to your wedding venue. You can sprinkle red rose petals over a white linen tablecloth for an attractive, elegant look. Also, you can select red rose petals strewn in the aisle for your wedding professionals.
How Much Amount Required to Spend on Flower Decoration?
The volume of flower petals that you will require is based on how you are utilizing them. One liter of flower petals will give tossing confetti to around twenty visitors. In case you are making a flower petal path, 2.5 liters will cover around 2 square meters of floor space. Assuming you need to design your tables, 2.5 liters will give a sprinkling to ten normal estimated tables.
How Should You Easily Store the Variations of Rose Petals for Your Wedding?
Freeze-dried or artificial rose petals will last more than you might suspect, and as long as they are put away appropriately. Flower petals should be put away at room temperature, in a dull spot, away from any type of dampness. Your rose petals will be conveyed in particular compartments.
Final Verdict:
Wedding flowers are generally arranged by name and for those hoping to utilize a particular bloom in their game plan. They are also famous for their colors and style. Since explicit bloom demands and wedding topic tones shift extraordinarily, we'll center around the kinds of wedding blossoms valuable of focal point plans. These choices are great, wonderful, and genuinely simple to get at your wedding.
Your favored flower collection is based on the specific type, which is popular as well as in demand by a lot of couples. It holds the stems set up as you organize, your super paste of decision just like a lighter paste-like Elmer's, green flower froth as well as wire confining for your base, green and clear tape, and attractive cultivating shears.
Frequently Asked Questions (FAQs):
1. Is it worth it for every couple to get DIY wedding flowers?
Do you know that DIY flowers are in demand, and the reason for their popularity is their budget-friendly impact? One of the significant draws of DIY wedding blossoms is the expense adequacy. It certainly gets a good deal on a wedding flower vendor when you wind up planning your own decorative designs.
2. How much time would I be able to make my wedding rose collections?
How well before the wedding would you be able to make a bouquet full of roses? New rose flower bundles ought to be made within 24 hours of the wedding to keep everything lively and excellent. In any case, a few rose types can last 48 hours in the wake of being cut.
3. What are the costly wedding flowers which are rare?
Peonies are the most exceptionally desired of all wedding blossoms. Everybody loves them; everybody needs them. However, unfortunately, they are one of the costly flowers found in the market, so if you must have peonies.