You will find different types of wedding officiants in Oklahoma, to choose the right one depends on your requirements. Wedding planning is all about decisions in which selecting the wedding officiant on top of the list. Although there are different types of wedding officiants in Oklahoma, the type of ceremony you want to perform will help you decide the wedding officiant that can lead your services. However, it is better for you to first read the reviews of wedding officiants in your location before selecting one. If you are confused about religious, civil, and professional wedding officiant in Oklahoma then keep on reading to select the right one.
Civil wedding officiant in Oklahoma
Civil wedding officiants are those in government positions and legally allowed to conduct a marriage ceremony in compliance with their state rules. Justice of the peace, judge, mayor, notary, or magistrate are the different titles used for civil wedding officiants. For a simple and non-religious wedding ceremony, many couples right away choose a civil wedding officiant that will assure them that they are married in the eyes of the law. In reality, people that got married abroad are bound to conduct a legal wedding ceremony with a civil officiant.
Religious wedding officiant
Religious wedding officiants in Oklahoma is referred to a leader of a particular faith and typically conduct wedding ceremonies based on their place of worship. You may have heard some of the spiritual leaders that belong to different faiths including a rabbi, priest, imam, pastor, revered, or minister. They all do the same job and can legally perform your wedding ceremony
However, if you are getting married by a religious wedding officiant, it is not necessary to marry in a church or any place of worship. They are allowed to officiate a wedding occasion at your preferred venue. Only the Catholic priest will not be allowed to conduct a wedding ceremony at any place except church.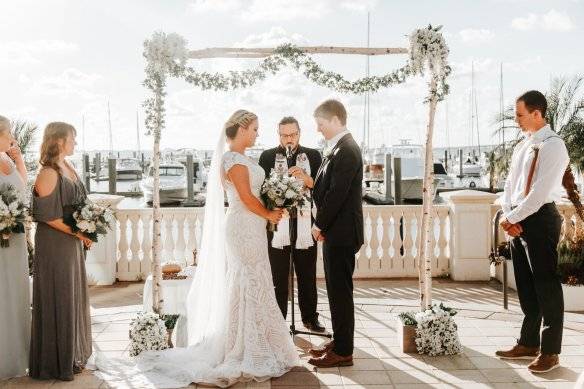 Professional wedding officiant
Another type of wedding officiant is a professional wedding officiant in Oklahoma. They are also professionally experienced in their work and can be hired to officiate a wedding ceremony. Many of them are able to conduct secular, religious, or inter-religious wedding ceremonies but each professional wedding officiant must be experienced in any one of them.
Besides, conducting your marriage ceremony they will guide you and allow you to customize your wedding with any traditions that you would like. Before hiring a professional wedding officiant, you need to talk with them about their expertise and discuss how you want your wedding to be. Fortunately, most of them are experienced in their jobs and will lead your wedding smoothly.
Ordained wedding officiant
Although we suggest hiring a professional wedding officiant but most of the couples prefer their loved ones to officiate their wedding. But your preferred one should be ordained to legally officiate your wedding. Ordination is a simple process and can be done online.