Do you know that almost 100% of couples agreed that they had spent more of their budget on entertainment? If you don't want to be added to the list, you need real-time tips for finding a budgeted wedding officiant and wedding photography package.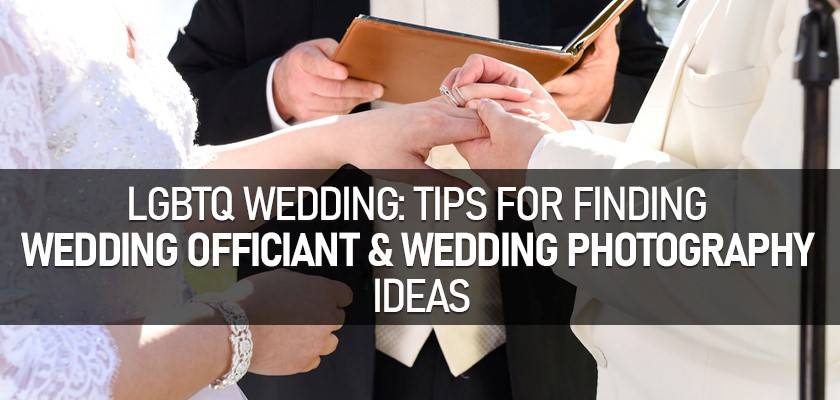 A very famous LGBTQ+ wedding officiant once stated that taking a risk and putting yourself out there is what makes life worth living. But, if you do not take risks, how will your story ever get told?
Staking our lives on love is not just brave; it is necessary so we can live in harmony with one another. It does not matter who or where someone comes from- when love reigns supreme over fear, nothing else matters.
His words still impact the contemporary era, and they resonate in the ears of the LGBTQ+ community. LGBTQ+ weddings are becoming more and more popular.
Finding the right wedding officiant and wedding photography is a mundane task. This article will help you with practical tips and tricks to make your beautiful wedding go smoothly.
Tips to Find the Right Wedding officiant OKC
A few tips will help you save time and effort while completing all the tasks from your end.
Go with the LGBTQ+ Ally: 
If you are looking for a wedding vendor, make sure that your officiant is an LGBTQ+ ally and supports same-sex couples.
Location: 
If you want an LGBTQ-friendly wedding, make sure that the location works for both your choice of Officiant and Wedding Party.
Make Interviews: 
When interviewing candidates to be the officiant for your LGBTQ+ wedding, you must find their expertise. This will help to make sure they align with your idea of marriage.
You want someone who can project your story, so everyone at this special occasion will know how confident and capable he/she feels on stage during these rituals. Moreover, it is essential that your guests feel comfortable around the officiant.
Discuss Your Dates with Officiant:
You might think you can call and ask, but the marriage officiant who will be performing your ceremony must know ahead of time. You do not want to book them for your wedding at the last moment.
To find a perfect wedding minister, you can contact various wedding services providers and observe him keenly. Then, make sure that your ideas of love and marriage are synchronized with the wedding officiant and wedding photography arrangement to have the perfect wedding ceremony of your dreams.
Photography and Videography Tips for LGBTQIA+ Wedding:
More and more same-sex weddings are happening across Oklahoma. As a result, wedding photographers have been getting an influx of inquiries from LGBT couples about their services for such events.
Read on if you want to help out these future bridegrooms or grooms in need. We have collated some photography and videography tips from various professionals who specialize in the wedding photography of LGBTQ+.
Take Pictures and Shots Separately: 
Sometimes, they can look like one big blob when you shoot couples. So, what is the best way around this? First, allow some separation between their bodies and let each person show off their dream dresses.
Know the Family: 
The problem with a same-sex wedding is that you would encounter many family members who are against this idea of marriage. You should be prepared for this and know how to handle it if any parents or grandparents come up with uncomfortable poses.
You should let the couple know and capture the happy moments with happy faces in this situation. The disappointed looks will only hurt the clients when they look at the photos and videos in the future.
Treat the Couple Nicely: 
Same-sex weddings can be a little different than heterosexual ones, but you should still pay attention to every detail. For example, you should not expect the couple to pose like the traditional photography ideas. Instead, make the couple comfortable and treat them both with equal attention and care.
Keep Alternatives Ideas in Mind: 
Same-sex couples are no different than any other when it comes to wedding poses. While many traditional public displays of affection may be out, there is always the possibility that some same-sex couples would not want their guests seeing them display PDA.
In this case, please provide them with a private space and let them pose however they want. You should have a detailed meeting with them about how they feel comfortable not to get embarrassed on their big day.
Make the Couple Feel Confident: 
Pose your couple to make them look and feel like the beautiful people they are. Then, ask them to interact with each other so that you can capture them showing love for each other in wedding videography.
Be Careful with Your Words:
You can use a variety of poses for same-sex couples traditionally used in heterosexual weddings. So, as long as you keep it classy and avoid gendered language like "bride" or bridegroom," your event will be unforgettable and successful.
Do not Be Gender Biased:
Remember that you are a photographer, not a homosexual. If your same-sex wedding clients feel like they are being treated differently, then it will be reflected in the photos and video footage of their special day.
Do whatever is necessary to have amazing photographs regardless of gender or sexuality.
Finally Finding Wedding Officiant and Wedding Photography
Same-sex weddings require a long thought process, and it is not straightforward as heterosexual ones. But you can make it as unique as you want by following the right tips and tricks.
If you want to free your mind from the hassle of arranging wedding officiant and wedding photography for your big day, then prepare and plan everything ahead of time. Then, choose the photographer who understands your idea of marriage and collaborates with you accordingly.
Moreover, you should also pick the wedding minister wisely. Ensure that he is not homosexual and is comfortable to be around. Focus on the little details as well, and your day will be full of love, and it will go as seamlessly as you want. If you want to plan your wedding by excluding all the hassles, you can get an expert opinion by visiting our website.