Do you have any wedding celebrations coming soon? Are you upset due to the low budget for your marriage? Are you in need of cheap wedding ideas for your marriage? So many questions arise in all of your minds.
Now, you should not take tension about your wedding budget. These ideas are budget-friendly, and you will enjoy the wedding as an expensive wedding.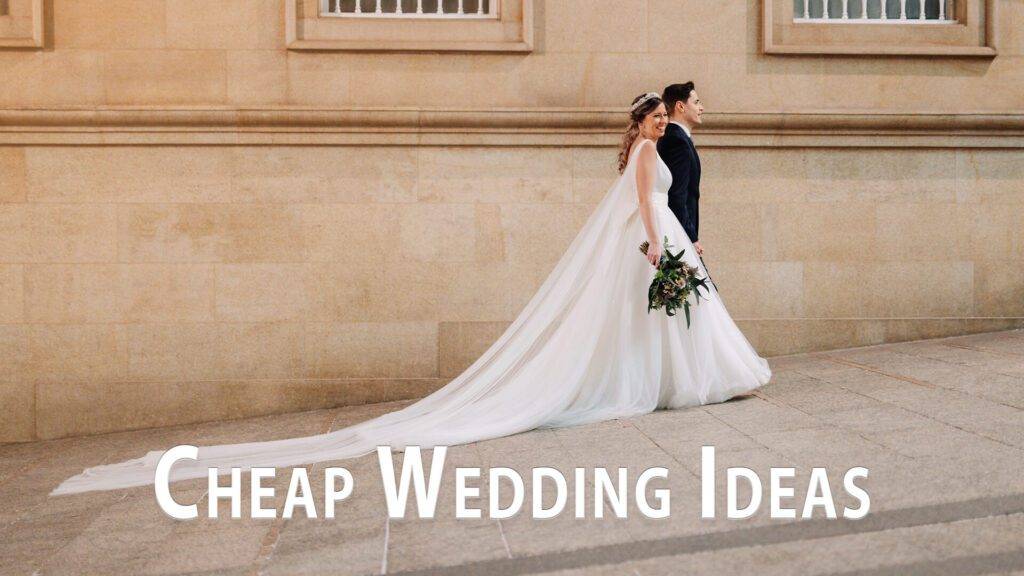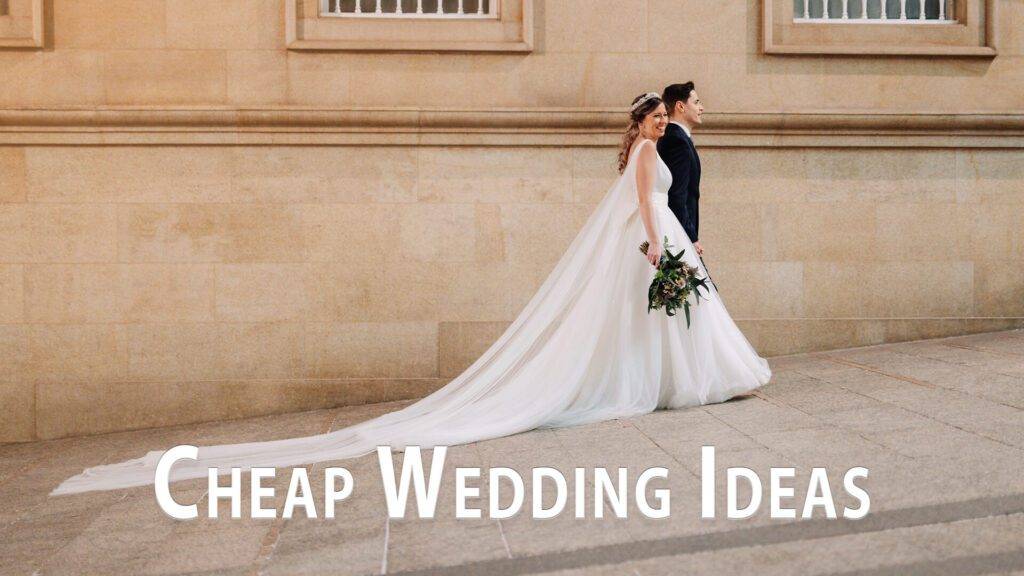 More than one-fourth of couples in the United States say they go into the loan to pay for their marriage. You know your wedding is all about your love and partnership with your partner. It's not ideal to start your life with your partner in red. If you want to live a happy life with your partner, you should decrease your wedding expenditures.
Discover These Tips to Start Planning an Inexpensive Wedding
As you know, there are so many expenses of the wedding. If you have a high budget, then you can make your wedding memorable. We are providing you with the best low-budget wedding ideas.
You can have an affordable wedding anyplace:
The wedding cost varies from location to location. Like in the US, the average wedding cost is $34,000. While in Idaho, the average wedding cost is $16,366. Besides this, in stylish Manhattan, the average cost is $96,910.
It doesn't matter which place you are; you don't need to pay too much money, like in the glamorous Manhattan. You just have to be creative and choose the best idea for your wedding. Using some strategies, you can make your wedding inexpensive and stylish.
Know where the money for your wedding is coming from:
Through the survey, it was concluded that in 2018 about 10% of people paid on their own for weddings. Another 10% could be paid in full. Most of the couples, the middle 80 percent, had a mixture of funders. You can sit down with all the funders to know who is funding what. Also, draw borders at this point.
Charge for an affordable wedding and define your priorities:
When both of you talk about it, then you can find a good solution for it. You should talk about ways to reduce wedding costs. Make a guide that helps to keep all the things through a plan. Always remind yourself that couples with expensive weddings have higher rates of divorce.
Further, you should give time to each other to know the priorities of both. It will help both of you to know what the priority of the other partner is. Whether in loan debt, avoiding an increasing loan, buying a house, kid's school funding, or in wedding expenditures. You can also plan to go on vacation rather than use the money for the party.
Create (and stay within) a budget:
If you want to make your wedding special and memorable, then the essential thing is to create and maintain the budget. Many of the couples don't focus on it, so that the result is the low budget that causes many problems for them.
After a survey, it was concluded that about 45% of couples went out of budget. Similarly, the same percentage remained on budget. Only 6% came under the budget.
Establishing a wedding budget is important so that it will not decrease later. Always try to create a budget that is comfortable for you after looking at the numbers.
Minimize the size of your guest list:
An expensive wedding requires too much money, and you can invite all of your friends and family members. But if this marriage is not according to you, then a small and budget-friendly marriage is the option.
You are focusing on the low-budget wedding, so keep in mind so many things like the venue, menu, and other expenses. Your wedding venue must be small because it costs half of the average wedding expenses. Further, consider a good amount of drinks, services, tables, food, invitations, etc.
Invite those friends and family members that are near to you. Avoid inviting extended family and friends like your mother's club friends. Hopefully, many of them will understand that you want a friendly wedding instead of creating a mess and making the wedding costly.
Go to a thrift store for your dress or suit:
Did you hear about a wedding without a wedding dress? No, you never hear about it.  As we know, wedding dresses are the most important part of any wedding. So, the need is to buy a good dress to make your day perfect.
Wedding dresses are available in different sizes and styles with different prizes. If you have a low budget and want to buy a beautiful wedding dress, then you should go to the thrift store. From there, you can buy a beautiful and inexpensive dress of your choice. Spend your whole day finding a wedding dress, and hopefully, you will find an inexpensive dress.
Pick a wedding venue close to home:
Do you want a destination wedding? If you want it, then check your budget first. If you have a low budget, then a destination wedding is not a good option for you. The reason is destination weddings require too much money for travel and overnight stay in hotels.
So, try to make your wedding venue near your home. It will decrease your expenses, and you will enjoy your wedding with ease.
Low-cost Remarkable Wedding Venue Tips and Ideas
Are you worried about your wedding venue because of your low budget? Don't be worried about it because we will give you tips and ideas that will cost less. These ideas will help you to find budget-friendly venues.
As we know, the venue is the most important portion of the wedding. If you have a low budget, then consider the venue at an affordable price and keep your budget maintained.
If you have a backyard of yours or in the family or friends, then it is the best option for a venue. You can hold both the events (wedding ceremony and reception) in the backyard. Chairs, tables, and tents are the less expensive ideas for a glamorous backyard wedding ceremony.
Explore wedding venues within your budget:
There are many available varieties of venue locations with low costs. So, you can find it according to your choice. It doesn't matter whether you like a rural, stylish, modern, or casual venue for your wedding. You can find venues for all themes. Many budget filters help you to find a venue within your budget.
Choose a vacation rental in your area:
How is the experience if you arrange your wedding in a lovely home near a vacation spot? it's the best option for a venue. You and your entire guest will enjoy the wedding with comfort and ease.
When you have a wedding, you can take it home for rent for some days near the popular vacation area. If you are living there, then it is the better option. It saves more money from your wedding budget. In this option, you have a lot of indoor and outdoor space. Besides this, you also have restrooms that will give comfort to your guests. But firstly, clearly tell the homeowner that you only want to have a small wedding there.
Time your wedding in the winter:
Which season do you like the most for your wedding? Most people love to arrange their wedding ceremony from January to March all over the world.
The winter holidays are the best time for your wedding. There are many low-cost venues for a winter wedding in different locations. You can negotiate the price for venues. It is better to arrange a low-cost wedding rather than a no wedding.
There are many exceptional winter locations for the wedding, such as Telluride and Colorado. Here, people pay many dollars for a wedding with the background of snow and mountains.
Consider a mid-week wedding:
Many people are worried about when they should arrange marriage. You can arrange your wedding ceremony on any day of the week. Although arranging a wedding on Tuesday and Wednesday is not normal, there is no rule against it. Both of these options are less expensive than weekend marriage.
It's better to choose a Thursday so that your guests can take off Friday and enjoy your wedding the other three days.
Make your guest list the A-list:
We all know that if we have a low budget, then inviting mane guests will cause more expenses. As a result, you are out of budget. If you have a short guest list, then it helps to reduce wedding costs and maintain your stability.
It's difficult to narrow down your list to 20 people, but you can narrow it down to 150 from 300. It helps you to manage things within budget. In most cases, a close affair requires less money and less work. It comes with a precious advantage: more time with the most welcoming group of guests you've invited.
Limit the plus-ones:
If you want to shorten your guest list to maintain your budget, then extend plus one. It should be extended to guests that are engaged, married, or in serious relationships. Besides this, you don't need to add single guests in plus one list. You can only add a single guest to plus one if you have a destination wedding.
Opt for more casual bites:
If you are worried about your low budget but want to serve good food, then use family-style or buffet meals. It is more easy and inexpensive for you instead of a plated meal. Further, it can reduce your costs for waiters that are used to serving at every table. If you want a casual meal, then you can order it from a BBQ joint, your favorite restaurant, or a food truck. You can also depend on your guests to contribute potluck-style.
Pick a venue or setting that looks great or natural:
Natural beauty enhances the effect of everything and is attractive to people. If you want a memorable wedding, then use natural places like the beach or other cool places. It requires less and inexpensive decoration. You don't need to pay extra money and time in the selection and purchasing of decorating items.
Explore Affordable and Exceptional Wedding Reception Ideas
Are you searching for a reception location that you can use on a low budget? If you are one of those who want a low-budget reception place, then don't be worried about it.
Always compare venues and foodservice expenses. Complete packages may have a higher tag cost. While if you book a blank website, then you have to bring chairs, tables, plates, beddings, and food. Also, calculate the cost of these items so that you can make a useful comparison.
Choose a favorite family-owned restaurant:
If you want a less expensive restaurant for your wedding, then you should visit dealers that are not part of the wedding industry. Go to some restaurant owner or if your friend has any restaurant then visit him. You can also arrange a reception in your favorite spot. Ask the owner if he provides a regular deal with affordable expenses. If he doesn't give such a deal, then ask him to make a large portion of your favorite dishes.
Ask for help with food instead of gifts:
Many people love to help by providing food at the wedding. It is a good option for a wedding that is arranged in the backyard or local halls. You can visit some friends or aunts and ask them to make ornate cakes or other food items for your wedding. You can only get help from people near you if you ask them for help. They will surely love to help you.
Make it a cash bar:
You can provide sparkling drinks to your wedding guests. Further, every guest must pay for their drinks. It's a good option, and you don't need to deal with the people who use extra in an open bar.
You can use another option that is converting an open bar into a cash bar after dinner. Through this, you can maintain your budget. Make sure you mention this in your wedding invitations and with a sign at the bar.
Explore affordable dessert options:
Dessert is the most important part of every wedding menu. If you want to buy a wedding cake, then its average cost is $500. As it seems, it is a large amount, and if you have a low budget, then you can't afford it. So, we have many other options for you that you can use as a dessert.
You can use low-cost options like cupcakes, pies, donuts, etc. You can arrange them in ranks and provide them to everyone so no one will miss them. Furthermore, you can also use another alternative option that is the use of ice cream, waffles, etc.
Keep the reception short:
It is the best idea to maintain your budget. If you have a low budget, then arrange your reception on the day with a short time period. It will cost little, and your guests will enjoy it. Further, it helps to give extra time in venue preparation for an evening wedding.
Explore Cheap and Classy Wedding Gifts Ideas:
Gifts are special to express to your friends and family that you are grateful for coming to celebrate their day. You can add up gifts for your budget. If you have 150 guests and the cost of each guest is $3, then the average gift cost is $450.
Here, you can also control the guest list, and it will help you. Then, if you have 30 guests and the cost of each guest is $3, then the average cost of the gifts is less than $100. Besides hosting a small wedding, here are some other ideas for inexpensive wedding gifts:
Homemade cookies:
When you are arranging the wedding party, then you can make homemade cookies. Start baking and make iced sugar cookies or bake up chocolate chip cookies. It will help you to make cookies within budget without spending too much cost when you buy from the bakery.
Personalized candy bars or mints:
It is the best idea when you want to give a wedding gift. It is an easy option, and you can do it yourself. You have to put your favorite candy bar in a decorative bag and then stick a personal tag. Most companies use personal wrappers or stamps with your name on the candy or bar packet.
Homemade jam:
If you have a rural wedding, then it is the best sweet idea. Gather your favorite fruits like apples, berries, etc., and make homemade jam. Then put it in the jar and decorate the jar with lace or other material. You can also use a personal sticker on the lid of the jar.
Explore Cheap Wedding Decoration Ideas That Are Not Cheap
Do you have a low budget for a wedding? Do you want your wedding theme or decoration to be stylish and attractive?  It can be done if you have a high budget. But if you don't have enough budget to décor your wedding venue, then no need to worry about it. Here, we will tell you cheap wedding décor ideas. Using these ideas will help you make your wedding memorable.
After you have decided on the venue, now the next step is to décor that venue. The decorations you choose to arrange the theme and help to make the wedding moment memorable. It doesn't matter where your wedding is; the matter is how you decorate the theme of the wedding. There are many low-cost decorating ideas, so you should choose according to your theme.
Though a wedding is a ceremony of fun, the real wedding starts at the reception. If you want to stick to a strict budget, then plan your reception on a low budget and remain to relax. There are many inexpensive ways to décor your wedding reception.
Use White Christmas Lights:
Most people use Christmas lights all year in the house. They use it to simply décor homes in different places like porches, etc.
It is the best option for wedding decoration. You can use it in the wedding venue in places like tables, ceilings, etc. It gives an elegant and beautiful look to the decoration.
Tie Ribbons:
Most people use seat covers to tie back the chair. But these are expensive, and you have to do a lot of work. So, the alternative to seat covers is the tie ribbon. Use some wide ribbons that add grace to things. These are inexpensive than the seat covers. Take help from your friends to cut the ribbon and tie it on the backs of the chair.
Add a Water Feature:
Do you want a nice addition to your reception entrance? If you want a refreshing addition at the entrance of the reception, then a water fountain is the best option. The refreshing and nice voice of the fountain will please your guests and freshen their mood. Use the small water fountain and easily sit at a table.
Use Feathers:
Have you ever heard that feathers are used in wedding decorations? It is a new thing for many of you. But it's the best and beautiful addition to your reception décor.
Feathers are trendy for decoration purposes, so, buy them in bulk from any store. It will create a large and beautiful feather circlet when you hang it on the wall. If you want an elegant and stylish look, then you can use them in floral centerpieces.
Buy decor items in bulk:
Is your other friend getting married? If yes, then it's good to know that you can buy all décor items in bulk. It will help you and your friend to bring the cost down. Décor items like candles, lanterns, lace, ribbons, etc., can be bought in bulk.
If your friend is not getting married, then don't worry. You can also buy items in bulk. So, you can use them for future use.
Get fresh flowers on the morning of the wedding:
Flowers are the most important and beautiful addition to any ceremony decoration. Buy fresh and affordable flowers from any flower shop on the wedding morning. Buy at a discount and arrange them in the vases.
As at a wedding you have a lot of work, so give the duty of buying and arranging flowers for some trusted people.
A bike with a floral arrangement in the basket:
If you or your friends have an old bike, then you can use it to arrange flowers. If you don't have a bike, then you can visit a thrift store also. The bike has an already tarnished vibe, but you can paint it in white and off-white colors. You can also paint it according to the color theme of the wedding. Then arrange flowers in the basket of the bike.
Mismatched china:
Go to the thrift store many times and find pretty and patterned plates like vintage plates.  You can use these plates for decoration, food services, and table runners. Clean all the plates so that guests can take them to their homes as a good gift.
Ribbons or lace chair décor:
Add superiority to your budget wedding by decorating the hall chairs for the ceremony and the dining room chairs for the reception with ribbons or lace. Simple loops or bold wrap around the back of the chair are stylish options.
Brown craft paper table covering:
It is a good and funny idea for rural weddings. Make sure to keep paper in place with tape on both sides or tie it with twine. Then write the name of each guest at the place. Now throw out crayons, so children can color them during the reception.
Final Verdict:
Finally, we have discussed all the cheap ways to maintain the budget for your wedding ceremony. You can apply all these ideas if you have a low budget. These are good ideas and will make your wedding perfect and memorable.
Wedding ceremonies require too much money and effort, but by using these methods, you can enjoy a good wedding at a low price. These ideas help you to make the decision easier and save money.
Frequently Asked Questions (FAQs):
Why do couples choose seasonal ideas for cheap wedding decorations?
Using pine cones in the reception decoration is also another affordable idea. You can buy these from any craft shop and use them in the centerpieces. In winter and fall, these have fallen on the ground so that you can find and use them in the decoration. Use metallic paint to give them a beautiful look.
How can you get a perfect photo display for a cheap wedding?
Create black and white-colored photos of you with your fiancé or your family members. These are the beautiful memories with your loved ones. Then frame these photos in a bare wood pallet, or you can attach them as a twine length with a clothespin.
Are Fairy light lanterns suitable for managing low-cost weddings?
Visit any thrift store and buy mason jars or glass lanterns of different sizes. Also, buy powered fairy lights and fill all the lanterns with these lights. It will create big and beautiful magic with warm lighting. It helps to keep your budget in the range.