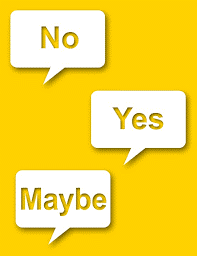 If you are the kind of person who needs someone else to order your food and is also getting married soon, then this blog is for you! Weddings are all about decisions. The first decision to actually get wedded to someone will lead you to hundreds of questions pertaining to how the wedding ceremony should go. Should you or your partner carry a bouquet? If yes, what kind of a bouquet should it be? Many questions about floral arrangements will also emerge. Will there be cake? How many tiers? What flavor? What color! Who will you hire as to be your wedding officiant? So many decisions would certainly make an indecisive person extremely dizzy. Here are a few tips indecisive people should follow when planning their wedding.
Do Not Go On Pinterest For Inspiration
Pinterest is the formula for a panic attack. Giving indecisive people a plethora of options is never a good option. If you feel like you absolutely must create a wedding board, then make sure to save pictures in a file on your computer and then using the images as references to show your planner, photographer and florist.
The Power of 3
Great advice for indecisive planners would be to make sure you stop at 3 options to choose from. Narrowing down an option from three choices will make it far easier than choosing from twenty potential ones. For example, call only three caterers, three bands and three photographers and focus on choosing from them. Same goes for when choosing a wedding officiant from OKC or choosing a wedding planner.
Let A Professional Wedding Planner Help You Out!
Wedding planners are basically specialists who help frazzled grooms and brides to organize, manage and execute their wedding. Wedding planners have had a lot of experience and have done a lot of research. Just giving them an idea of the kind of wedding want can help them curate the best wedding ceremonies. Maybe, when visiting your wedding officiant from Oklahoma, you can ask them if they have any referrals for good wedding planners.
No More Options
For indecisive people, having a multitude of options will just make things more confusing and difficult. Just trust your gut, discuss things with your wedding planner and streamline them that way.
Once you have hired your desired wedding officiant from Oklahoma City, you can discuss your indecisiveness with them. They will be sure to tell you that it is very normal to be indecisive and things always work out in the end.