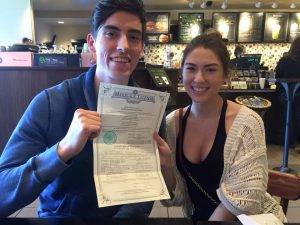 Are you engaged to be married but you and your fiancée are considering a "no frills" wedding? Perhaps, the two of you don't have the extra cash to spend on a big ceremony or maybe, you just don't want one. It's okay to say "no" to having a large and in charge wedding. In fact, Dr. John Patrick Keefe II, a wedding officiant in OKC, performs marriage license signing ceremonies at a local Starbucks coffee house.
There is no glitz, no glamor, just the signing of the document and lots of love. Typically, a couple will show up to the agreed upon location with some friends and family. You need at least two witnesses with you to sign the marriage license. However, Dr. John Keefe has been known to provide witnesses for the bride and groom right there in the coffee house. Any stranger will do just fine.
There's no big dresses, no tuxedos, and no formal ceremony. In many cases, couples will choose to get the legal part of their wedding over with in this manner. However, they still throw a major party afterward. I think it's all about where you'd rather spend your money. I know, if it were me, I'd be investing in the reception instead of an expensive gown, church, flowers, and lavish bridal party gifts.
There's no shame in deciding to get married in this way. Many people choose to do so for a variety of reasons. Check out some pros of skipping the big formal wedding ceremony:
Saves money
Saves time
Virtually hassle-free
You're legally married after a few spoken words and some signatures
You get to invest the money you would have spent on a big wedding in other things like a reception or honeymoon
Small gatherings are often more intimate
If you choose to go to Star Bucks to sign your marriage license, you get to have some kick ass coffee
Sometimes, you may run into a few problems with your friends and family if you choose to forgo the big wedding. Some individuals, like your parents, might feel that a big wedding is necessary for religious purposes. Others may feel that you are missing out if you don't have a formal wedding. It's easy to give into the fears and concerns of others, but keep in mind; this is YOUR wedding day, and it's all about what you and your partner want.
You can explain to friends and family your reasons for having a small marriage license signing at a local establishment, but don't feel as if you owe anyone anything. In fact, some great keywords to say to the haters are, "You're not paying for a lavish wedding for me are you? No? Ok, then bud out!" That usually takes care of any further comments from the peanut gallery.
No matter how you choose to tie the knot, the end result is always the same, you and your partner get to live happily ever after together in harmony.