So, you've just popped the question (or had the question popped to you) and someone said, "yes!" Congratulations on your engagement! Dr. John Patrick Keefe, a wedding minister in Oklahoma City, gets so excited when he hears about new couples preparing to walk down the aisle, and wants you to know that there are numerous ways to tell your friends and family the good news.
If you're like me, you enjoy getting creative when you have big news to share and getting engaged ranks pretty high on the hierarchy of awesome news. Check out these seven great ways to let the ones you love in on your little love secret:
Facebook, Instagram, Twitter, etc.
It's becoming increasingly popular for people to tell major news about their lives on social media. Why? Because you have your entire social audience all in one spot. Forget mailing multiple engagement notices or making annoying phone calls, just post your news. A cute idea is to post a selfie of your hand wearing your engagement ring. No words are needed!
Send Out Save-the-Date Cards
There's nothing wrong with going the old fashioned route and turning to snail mail. Mail out save-the-date announcements for your wedding to everyone you want in attendance. The card can be of or contain a professional picture of you and your fiancée smiling happily, in a lip-lock, or hugging each other.
Swing On by the Fruit Orchard
This is seriously the cutest idea ever! So, head on down to the local you-pick fruit orchard and bring your camera. Hopefully, the place has a sign that says, "I pick you." Stand in front of the sign and have someone snap a photo. Poste this photo on social media or send it out in card form as an engagement announcement.
We all know that little ones are terrible at keeping secrets, right? At your next family gathering, whisper in the ear of the biggest blabber-mouth child in the room that you're engaged. Wait for it…
Everyone likes to get together for food, fun, and good conversation. Host a dinner party at your favorite restaurant or your apartment and tell everyone the great news.
This is probably one of my favorite ideas! Make a t-shirt that says "Future Mrs/Mr. So-and-So" and wear it out the next time you and your friends or family get together. It'll be fun to see how long it is before they notice what your shirt says!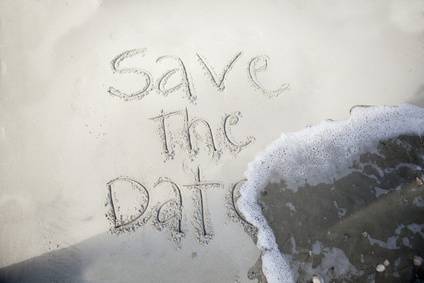 There are plenty of platforms on the internet that allow you to create your own, personal wedding website. Start one for yourself and dish on the details of your engagement. Upload photos of the day, the ring, and your expression. Once you've created the site, send a mass email to friends and family containing the link.
This list is just the tip of the iceberg concerning ways you and your fiancée can reveal to your loved ones that you're getting married. Get creative in how you decide to tell everyone the good news. Remember, the sky is the limit!