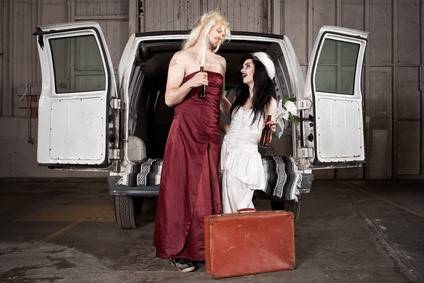 Every year, thousands of people decide to get married. After the proposal, the wedding planning begins and things like the dress, food, and venue start to be discussed. One of the things that Dr. John Patrick Keefe II, a wedding officiant in Oklahoma City, is known for is his willingness to help couples have their wackiest, zaniest, and most amazing wedding experiences ever. John Keefe has helped people say "I do" in some of the weirdest destinations known to man. This list is going to name a few for you. Enjoy!
McDonalds Wedding
Yep, we're talking about the fast food restaurant. Dr. John Keefe II recently helped a couple get hitched under the golden arches. The wedding was actually quite beautiful other than the scent of sizzling burgers hovering in the air. However, John found that this made him feel rather hungry so he stayed for dinner after the ceremony. Can you guess what the wedding party was served? I'll give you a hint; it wasn't Pizza Hut!
Museum Wedding
Some folks might not think that having a wedding in a museum is so crazy. In fact, a museum wedding would probably be very beautiful and charming, right? Well, you'd be right if the museum wasn't abandoned and was once used as an insane asylum. That's exactly where John Keefe officiated a wedding for Brenda and Doug. This couple embraced the gothic culture and wanted to have a totally creeped out wedding. Guess what? They did!
Antique Store Wedding
Having your wedding in an antique store isn't that weird and it's actually kind of cool, which is why I included it in this list. Can you imagine saying your vows while surrounded by antique furniture, pottery, and pictures? Nothing but the soft flicker of candles to light your path to the alter? How unique! Dr. John Keefe hasn't actually officiated in an antique store setting as of yet but he would certainly like to!
Tree House Wedding
Last summer, Dr. John Patrick Keefe II had the honor of officiating a tree house wedding for some friends of his. You see, these folks weren't part of PETA or anything like that but they simply had a love for tree houses because of the sentimental value they contained. John's friends where high school sweethearts and would often go meet at a special tree house where they would make out for hours. Some say this is where their first child was conceived. So, yeah, tree houses are something very special for this couple, and John Keefe helped them create another memory.
Boat Weddings
You might be thinking, "What's so weird about a boat wedding?" Truthfully, nothing is weird about a boat wedding and they are actually quite common…on yachts. This particular boat wedding that John Keefe officiated was on a dinghy. There was barely enough room for the three of them to stand in the vessel but John Patrick Keefe made it work because moving mountains for his clients is what he does best.
What is the weirdest place you've ever attended a wedding ceremony?